WordPress chatbots are a convenient way of automating responses to common customer queries, saving you time and enhancing user experiences. They can serve as a powerful tool for improving support, lead generation, reducing shopping cart abandonment and elevating overall customer satisfaction.
In this post, we've created a guide to help you choose the best WordPress chatbot plugin. Whether you're looking for a simple, free WordPress AI plugin or a lead-generating chatbot, there are several options to work seamlessly with your WP website.
What does a WordPress chatbot do?
WordPress chatbots help to streamline and improve your processes. They do so by serving customers with answers to their questions and queries – without your interaction. These processes include marketing, customer service and generating new leads.
But what are the benefits of a WordPress chatbot?
WordPress chatbot benefits
Improve customer service
Help desk chatbots can effectively answer more than 85% of your most commonly asked customer service questions.
Simplify product research
A "must-have" with over 90% of young adults are interested in using chatbots to find out about your products.
Improved customer experience
About 70% of online shoppers prefer to use chatbots for instant responses than wait for a person to respond later.
Aid productivity
As many as 75% of business owners are satisfied with the results of their chatbots including time saved and accuracy provided.
WP chatbots reviews
Here's an overview comparison of the WordPress chatbot plugins we have reviewed, before we take a look at each individually:
Tidio review
WordPress rating:
4.8 (370+ reviews)
Tidio is an all-in-one live chat plugin that easily integrates with WordPress, WooCommerce, email marketing platforms, and your help desk software.
It boasts a highly intuitive dashboard and a mobile app for managing user inquiries from anywhere, at any time.
Installation is really easy. Once you've created an account, just install the plugin on your WordPress site, and connect the two without any coding.
We found the automation to be a real key feature of Tidio. With a fantastic range of triggers and templates, it's easy to create a chatbot based on keywords specific to your business and user behaviour. This level of automation allows you to efficiently respond to customer queries and create conversion-focused funnels, without much direct interaction.
Ideal for small and medium-sized businesses, Tidio easily integrates with WordPress in a matter of seconds.
Tidio pricing
The Tidio chatbot package costs $29 per month, which includes three users and 2000 triggers per month. Tidio also offer a free livechat-only plan without chatbot capabilities.
What we like about Tidio
Easy integration with no coding
AI chatbot functionality
Lots of ready-made templates and triggers
What we dislike about Tidio
No social media support
Quite expensive to create a chatbot and livechat
Languages are not supported
Botsify review
WordPress rating:
3 (1+ reviews)
Botsify is a dynamic, real-time chatbot platform suitable for a variety of businesses. With Botsify, you can easily connect with your website visitors, send customised messages, and provide support – even during your most busy periods.
You can seamlessly integrate Botsify with several channels including your WordPress website, Facebook Messenger and email. This enables you to efficiently manage all communication channels from a single, centralised platform.
Used by brands such as Unilever, UNICEF, and World Health Organisation, Botsify is a good, well priced platform. It has a lot of useful features, but may not the most ideal choice for novices. Because despite the useful knowledgebase and installation wizard, some users may find it overly complex. However, this can easily be overcome by opting for the "Done For You" package, where Botsify will build and manage the bot on your behalf.
Botsify pricing
Botsify doesn't offer a free version, but it does have a very clear pricing structure. So depending on your level of expertise, you can "Do It Yourself" for $49 per month, or have it "Done For You" for $149 per month.
What we like about Botsify
Competitively priced
Lots of customisation options
Drag-and-drop interface
What we dislike about Botsify
Steep learning curve
Lack of webhooks
Interface needs some work
Customers.ai (MobileMonkey) review
WordPress rating:
3.9 (50+ reviews)
Customers.ai (which was previously MobileMonkey) allows you to create bots using OmniChat™ technology, which is compatible with web chat, Messenger, and SMS text messages. The platform also enables integrations with third-party CRM systems, email marketing services and webinar platforms.
The Customers.ai platform is used by some huge brands including Ford, Toyota, Anytime Fitness and Holiday Inn. Designed to consolidate messages from various channels into a single inbox, this creates a system which enables easy monitoring and improved responses.
We have noticed that since the rebrand from MobileMonkey to Customers.ai, customer service appears to have become an issue with this app – potentially early teething problems.
Customers.ai pricing
With a Starter account costing $199 per month for up to 250 leads, Customers.ai may be pricing itself out of range for some small businesses. A free version with most features and 50 leads per month is also available.
What we like about Customers.ai
Works with SMS
Consolidates channels into one inbox
Easy to use interface
What we dislike about Customers.ai
Limitations to create appealing emails
Poor customer service
Paid versions are expensive
Get Customers.ai for your website
ChatBot review
WordPress rating:
4.6 (90+ reviews)
ChatBot offers users the ability to create website bots within minutes through a wide selection of templates. Enabling automation of crucial tasks, you can customise any template to suit your specific requirements through a user-friendly drag-and-drop interface.
ChatBot is pre-configured for immediate deployment to your website, and is great for crafting engaging conversations and building stronger customer relationships. The ChatBot AI algorithms continuously enhance response quality over time, helping customers to engage in conversations and interactions. Through the interface, it's possible to seamlessly blend text, images, buttons, and quick replies to showcase your brand, products, and services.
The ChatBot system from text.com is used by global brands including Unilever, Kayak and Danone. It offers some great versatility across various platforms and channels with convenient one-click integrations. This including Facebook Messenger, Slack, LiveChat, WordPress among lots of others. Additionally, Chatbot can connect to an array of systems through open APIs, webhooks, and Zapier integration.
ChatBot pricing
ChatBot offers a free 14 day trial. A paid package must be used to continue with using the services beyond this trial period. The Starter package costs $52 per month billed annually, and includes 1000 chats, all integrations and basic reporting features.
What we like about ChatBot
Drag-and-drop interface
Lots of customisation options
Useful analytics package
What we dislike about ChatBot
No free version
Expensive for smaller businesses
Not the most intelligent AI
Chatra review
WordPress rating:
5 (10+ reviews)
Chatra is a WordPress chatbot designed to enhance your sales efforts. Integrated within Chatra's multifaceted marketing toolkit, it supplies pre-made templates for streamlining your lead generation initiatives and automates your more straightforward support needs such as FAQs.
The Chatra WordPress chatbot includes adaptable chatbot templates designed to facilitate lead generation, offer essential support, and provide aid in the checkout process. We also like the exit intent messages provided to often significantly reduce instances of abandoned shopping carts.
Chatra pricing
Chatra offers a free package which has some useful but basic features. The $17 per month Essential version, and $23 per month Pro option are very cost effective compared to other chatbots.
What we like about Chatra
Good value packages
Customisable templates
Manageable users and groups
What we dislike about Chatra
Updates are infrequent
Free plan features are minimal
Bot occasionally freezes
Collect.chat review
WordPress rating:
4.5 (30+ reviews)
Collect.Chat is an intuitive chatbot builder that requires no coding expertise. Using the drag-and-drop facility, you can produce interactive chatbots tailored to your needs.
We like the visual interface which makes it easy to create conversational pathways, produce response alternatives, and personalise the chatbot aesthetics. The Collect.Chat plugin also offers an excellent selection of more than 50 templates, allowing you to automate a wide range of tasks. This includes clever functions such as appointment scheduling that will seamlessly synchronise your Google Calendar.
The plugin also incorporates email notifications for conversations and extensive customisation choices. Additionally, it provides chatbot interaction reports and visitor responses, helping you to make more informed business decisions.
Collect.chat pricing
All packages provide an unlimited number of bots. The Free plan provides a reporting and booking feature, with the Lite plan costing a reasonable $24 per month. The Standard package offers a lot more features suitable for larger businesses, but at nearly twice as expensive at $49 per month.
What we like about Collect.chat
Provides a great user experience
Very straightforward implementation
Sending data to third party apps is easy
What we dislike about Collect.chat
Design inflexibility with basic packages
Lacks a live chat option
Only follows pre-set rules
Get Collect.chat for your website
BotPenguin review
WordPress rating:
4.8 (1+ reviews)
BotPenguin is an AI-powered, no-code bot builder using the Omnichannel Chat Interface. It streamlines customer support, captures leads, and handles inquiries 24/7 – at minimal cost.
We found BotPenguin installation to be very easy. It took no more than a couple of minutes to add the app and connect the account. From the very clean interface, you can create drip campaigns, offer human assistance, add chat widgets to your website, group contacts, and send flow-based or template-based broadcasts.
The chatbot supports several channels like WhatsApp, Facebook, Instagram, and your WordPress website. BotPenguin also integrates with over 40 platforms including Zapier, Stripe, HubSpot and Zendesk, providing extensive CRM options.
BotPenguin is a really comprehensive chatbot solution. It combines live chat, chatbots, WhatsApp, Telegram, Messenger and Instagram for instant customer communication, enhancing satisfaction and sales.
BotPenguin pricing
BotPenguin has three main packages – Baby (free), King (starting at $5 p/m) and Emperor. This is great value for money, with the most important features offered at a much lower price point than other chatbots. Between these prices, you also can purchase additional contacts as needed for added flexibility.
What we like about BotPenguin
Quick and accurate responses
Easy to userstand interface
Very cost effective
What we dislike about BotPenguin
Lots of options which can overwhelm
Chatbot UI needs improvement
Get BotPenguin for your website
ManyChat review
ManyChat specialises in Facebook Messenger chatbots which enable sales generation, cart abandonment reduction, lead capture, and other tasks.
Although predominantly designed for your social channels, ManyChat can also be installed on your WordPress site with a small amount of coding.
We like ManyChat's intuitive user-friendly drag-and-drop interface, which simplifies the chatbot creation. This can enable you to reach your audience more efficiently, improving your communication processes.
The plugin really opens up a variety of possibilities with automated welcome messages, product recommendations, scheduled messages, keyword-triggered responses, and other responses specific to your business. The Pro package reporting feature is also great at providing useful campaign performance insights, allowing you to continuously optimise your chatbot strategy.
Manychat pricing
ManyChat offers a free plan that includes basic templates, engagement with up to 1000 contacts, and 10 audience tags. The Pro plan comes with a host of additional features for a very cost effective $15 per month.
What we like about Manychat
Drag-and-drop functionality
Comprehensive analytics and reporting
Excellent analytics
What we dislike about Manychat
Template customisation limitations
Free package support can be slow
Privacy concerns connecting to Facebook
Freshchat review
Freshchat is a versatile chatbot designed to facilitate customer interactions across communication channels including web, email and social platforms such as WhatsApp, Instagram and iMessage.
Developed by Freshworks, Freshchat's standout feature is the native AI-driven chatbot, which is easily constructed through the user-friendly builder.
Freshchat utilises "Freddy", an AI algorithm designed for customer engagement and intent detection. This machine learning technology can even provide a list of customer and prospect questions that require very precise responses.
We found that Freshchat further enhances customer engagement with its journey builder and comprehensive library of pre-designed playbooks. These resources enable businesses to anticipate and fulfil customer needs proactively. Additionally, Freshchat provides customer histories and pertinent data, giving real-life agents the tools for improving productivity and the delivery of more personalised customer experiences.
Freshchat pricing
Freshchat is easy to maintain and cost effective. Campaigns and social integration is available at no extra cost. But to use Freshchat's canned responses and reporting, you'll need their "Growth" plan, priced at a very reasonable $19 per month.
What we like about Freshchat
Easy configuration
Many essential features are free
Pre-written replies for frequent chat queries
What we dislike about Freshchat
Complicated pricing structure
Reporting in multiple files
Outdated WordPress plugin
Get FreshChat for your website
Chatfuel review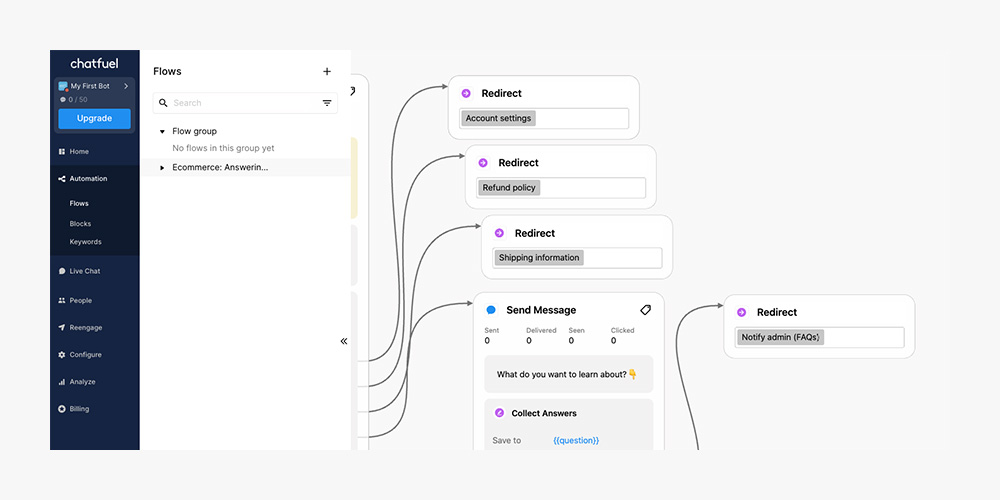 Chatfuel is a robust chatbot platform for Messenger, Facebook and Instagram that integrates well with WordPress.
The bot doesn't require coding knowledge or prior experience, making it a great choice for users that require both website and social communications. Just a few simple steps and your Messenger bot will be fully functional with your site.
Chatfuel is simpe to use, powerful and scalable, and is trusted by brands including Adidas, T-Mobile, LEGO, and TechCrunch. It can be employed for increasing sales, lead qualification, and providing answers to frequently asked questions.
The extensive Chatfuel website documentation aids the creation of chatbots, as well as ensuring compliance with Facebook's rules for Messenger bots.
Chatfuel pricing
Chatfuel plans start from $14.99 per month, with no user limitations and up to 500 connections per month. A free plan with a fully-featured bot and up to 50 connections per month is also available, which we think is great value.
What we like about Chatfuel
Functions with websites and social channels
Great user experience
Data gathering features
What we dislike about Chatfuel
Expensive when dealing with large audiences
Fewer functions than other chatbots
"Flows" and "bots" can be confusing
Website chatbot key features
There are many chatbots available for your WordPress website and the features can often become overwhelming.
So let's break things down.
You want a chatbot that offers cutting-edge technology, a wide range of functionalities and good support which includes documentation. A few other key chatbot features to look out for are:
Customer feedback collection
Allow your customers to share feedback about your products and customer service through the chatbot. This is a great way of gathering reviews, creating constant improvement and enhancing your brand reputation.
Advanced artificial intelligence
Chatbots with machine learning and natural language processing empower the chatbot to grasp user intent and learn from prior interactions, improving the future responses. This ensures that customer interactions with your brand – even when handled by a bot – feel as human as possible.
Reporting and analytics
Good analytical tools enable you to monitor your chatbot's performance and swiftly identify areas for improvement. By recognising both strengths and weaknesses, you can fine-tune its capabilities to improve efficiency and the ability to answer questions successfully.
What is the best WordPress chatbot?
Chatbots are gradually becoming a vital marketing and customer service tool. As the technology advances further, taking advantage of a chatbot's speed and accuracy can really help to provide an edge over your competitors that are only using human interactions.
There really are a lot of options for you to choose from.
But personally, we recommend Tidio as the best AI chatbot for WordPress.
It's hugely popular with good reason. It's user-friendly, very easy to install, offers pre-made workflows and cost effective compared to other solutions. , You'll even find it in use at the bottom right of the screen as you read this.
Depending on your individual needs, alternatives like Collect.chat might be well worth considering for the booking facility. Or FreshChat for its ability to work well with both your WordPress site and social channels. Alternatively, take a hands-off approach and have Botsify build and manage everything for you.
Whichever option you got for, you'll be providing your WordPress website visitors with a personalised experience that addresses their queries effectively.